Carter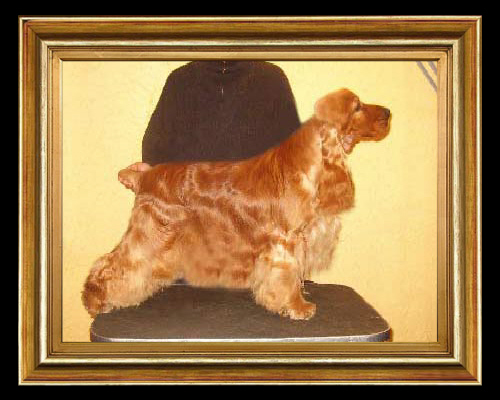 PRA : Clear (Sain)
NF : Clear (Sain)


English Translation at the end of this page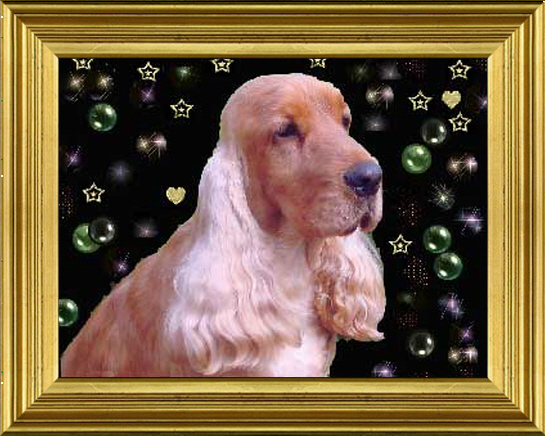 Carter est arrivé en France en 2002 et c'est une joie sans fin de vivre à ses côtés. Son Caractère extraverti et malicieux fait le bonheur de tous les autres chiens qui sont pour lui des compagnons de jeux inépuisables. Mille merci Linda et John pour m'avoir cédé ce merveilleux chien qui était censé vivre à vos côtés !!!!
Carter a été radiographié (certificat + radiographie sur demande- Dr Chaudieu-) et testé APR clear. Il a regagné l'Angleterre pour quelques mois p afin d'être exposé et utilisé comme talon. Nous avions en effet décidé avec Linda que sa carrière se passerait d'abord Outre Manche. Il y a obtenu d'excellents résultats en expos (voir ci dessous) à tous les niveaux de la compétition (open et championnat) dont plusieurs BOB, RBIS, Meilleur mâle, et des premières places en exposition de championnat. Il a aussi laissé là-bas une descendance sur des chiennes de qualité et ayant fait une brillante carrière sur les rings anglais.
. Il est disponible à la saillie pour des femelles de qualité.Carter produit des chiots Golden, Noir et Noir et Feu
Si vous souhaitez voir sa progéniture à travers le monde cliquez plus bas sur le coeur avec un bébé à l'intérieur!
Pour ses premières sorties en exposition Carter a entre autre :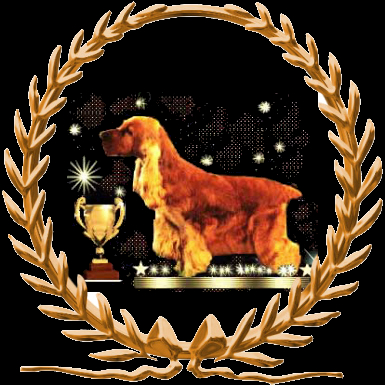 * Remporté " l'open class" très fournie et de qualité (mâles et femelles toutes couleurs)de Sheffield (England) et le Meilleur Mâle (Best opposite sex)."Très beau rouge avec une tête plaisante, très bonne sortie d'encolure, très court de corps, excellente cage thoracique, excelle en ossature et pieds"
** Remporté la "Post Graduate Class" à l'expo du "Spaniel cocker Club de Londres", puis a fait Meilleur Mâle et enfin la Réserve de Best In Show parmis des chiens de haute qualité et provenant de Tops kennels anglais."Un très beau cocker rouge, très bonne tête, exc sortie d'encolure et épaules, très bonne ligne de dos, excellente ossature et pieds, grassets bien coudés et marche avec entrain."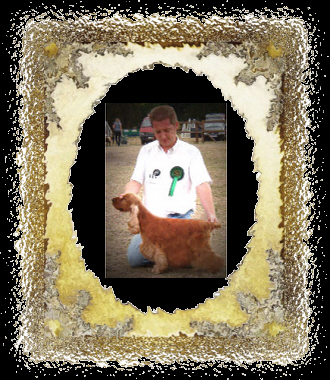 *** Remporté le Meilleur de Race de l'expo de Chesham (England). Merci à John qui pendant notre absence avec Linda(elle Jugeait en France ce jour là) a fait des exploits, lui qui ne présente presque jamais de chiens sur les rings !!!!!!!!!!!!!
**** Remporté la Post Garduate Class de l'exposition de Championnat de Bournemouth (England), sous les jugements de Jack Clarke (Cornbow) - voir photo ci-dessous. "Très similaire en type avec son copain de chenil (Richian Best News For Jozelah),tête très raffiné.Il y a tant a aimer dans ce chien si court et compact, marche très bien" -Jack Clarke.
***** Remporté l'open Class et le Meilleur de Race de l'expo de Witney (England) - Voir Photo ci-dessous
****** Remporté des CACS - CACIB et plusieurs BOB et Meilleur du 8ème grouope en France également.
Carter when First at Bournemouth Ch. Show Carter When BOB at Witney Cliquez sur le coeur pour voir la progéniture de carter dans le monde
Click on the heart to see Carter's progeny around the world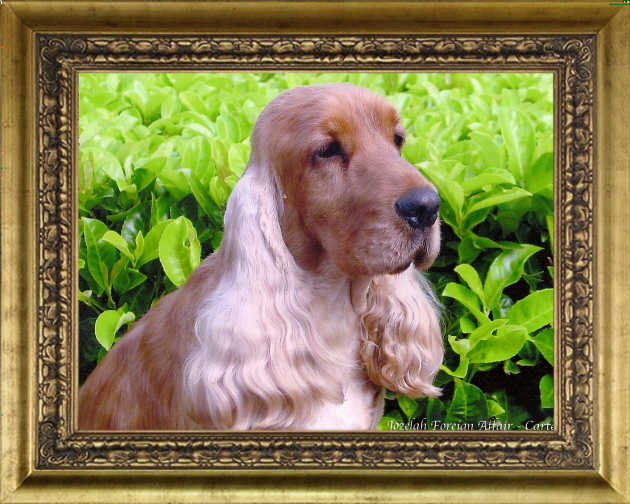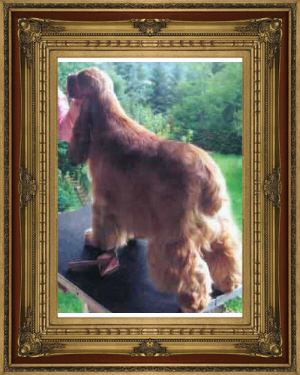 In France with his english Mum

Carter when Puppy- Between 4 weeks and 6 months / Carter entre 4 semaines et 6 mois.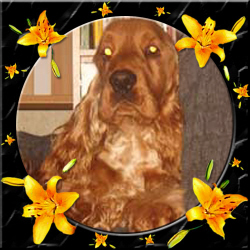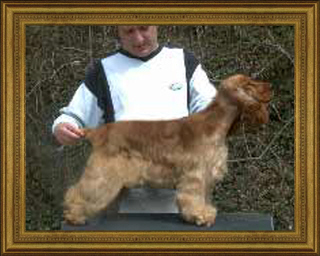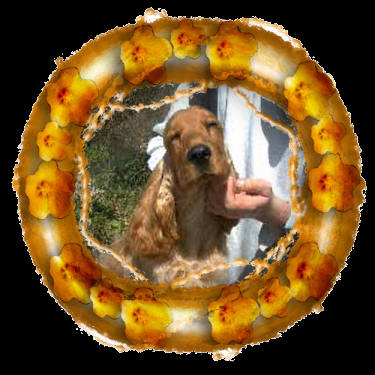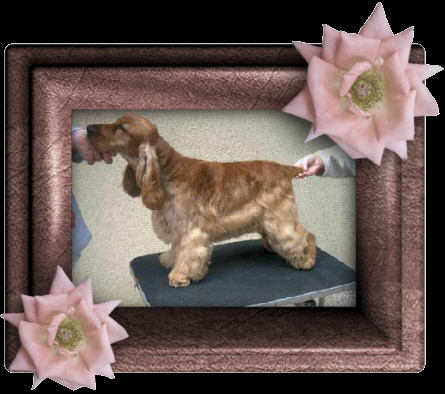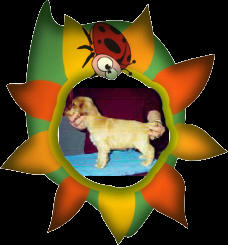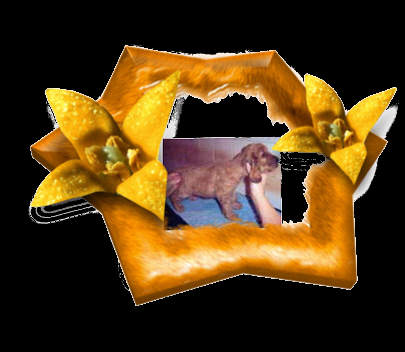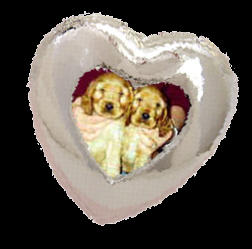 ShCh Canigou Cambrai

ShCh Cleavehill Pot of Gold

Crankwood Miss happy

Quettadene Melissa

Quettadene Serena with Amberway

Cilleine Savamark of Broomleaf

Olanza Picture star of Datona
Pour Voir certains chiens du pedigree de Carter>>>>

<<< Click here to see some dogs of Carter's pedigree


ENGLISH VERSION : Carter arrived in France at beginning of 2002 and it's an incredible pleasure to live with him because of his extrovert and clever temperament. Thank you so much Linda and John for having given me su Carter arrived in France in 2002 from the UK where he was supposed to stay.... But I completely felt in love witth him and I crossed the Channel with me !!!!! He is a gentle and sweet little person who absolutely loves anybody. he is also an extrovert kennel mate as he likes all the other dogs to play with.
He has his hips x-rayed (Certificate on request) and has been tested PRA clea
and also FN. He has : Several BOB, Reserve Best in Show (London Cocker spaniel Club), Best dog, and several first place at all level of the show (Open and Championsgip show). He had also mated there several bitches of very good qualities including ShCh Jozelah Classic Moods JW, and they produced together a wonderful litter of 8 big fat puppies. We are all very proud of them! Carter came back to France at the middle of September in super condition : ! In France he has also several wins to his credits under good judge specialist.
In the english Rings :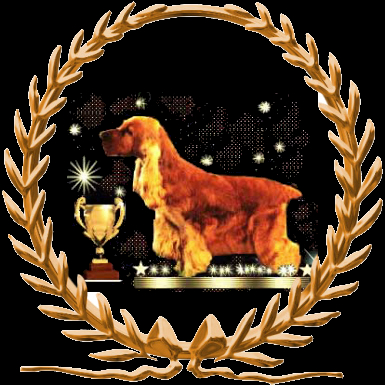 ****Jack Clarke's critics at Bournmouth Championship Show when Carter won Post graduate Class : "Similar in Type with his stable mate (Harvey), so much to like about him, refined head, short & coby, moved well".**** Best Dog and Reserve Best in Show at London Cocker spaniel club.
**** Best Dog at Sheffield Open Show
**** Best Of Breed at Chesham
**** Best Of Breed at Witney.
**** Also CACS CACIB and BOBS in France.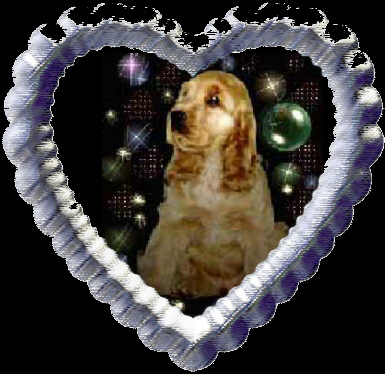 **Carter is offered at stud to approuved bitches and sires Golden, Black and Black and Tan puppies of very nice quality. Frozen and refragerated semen for abroad.
Click on the gold puppy to see some of his progeny around Europe.